Tech Tips Archives

A Job Board for job seekers with disabilities and the businesses looking to hire them.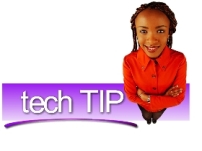 ---
Create Customized Toolbars in MS Office
You can create customized toolbars in MS Office applications that allow you to access your macros through your toolbar. Imagine being able to reformat a document, add standardized text, or format complicated tables with just one click. While it takes some skill, creating macros is a simple way in which to add function and accommodation to your Word environment. Click here to view a set of macro and toolbar instructions prepared by rehabilitation engineer Michael Fiore. MS Word - 260 K
Switching among Applications
In a Windows environment, you can switch among open applications without using your mouse. With your left hand, simply press and hold the ALT key while tapping on the TAB key – this will allow all of your open applications to be displayed in a Window on the center of your screen. When you see the application that you want – just let go of the keys – its that simple.
FACEBOOK

---